'Tis the season for bright lights and winter wonder. Between setting up the tree and watching kids' holiday productions, there's a lot to take in this time of year. Unfortunately, many people struggle through the holidays with imperfect eyesight — though there's no reason to settle. If seeing is believing, here's how laser vision correction could help you celebrate the season to the fullest.
The Value of Good Vision
Let's face it – good vision and eye health enhance your quality of life. You enjoy your life in living color, and clear vision can enrich practically every life experience. While glasses and contact lenses can help you bridge the gap, laser vision correction could give you the freedom from corrective lenses you've always wanted.
At nJoy Vision in OKC, LASIK isn't your only option. Our surgeons perform a range of refractive surgeries to treat patients depending on their individual vision problems, age, and lifestyle needs.
Schedule an nJoy Vision consultation to discuss the right laser vision correction option for you.
All-Laser LASIK
All-laser or bladeless LASIK is a type of corrective eye surgery that reshapes the cornea with state-of-the-art, computer-guided femtosecond and excimer laser technology instead of a mechanical blade. Unlike mechanical blade procedures, bladeless LASIK offers a greater degree of technical precision that often results in 20/20 vision or better.
PRK
PRK, or photorefractive keratectomy, is basically LASIK without the flap. Instead, this minimally invasive procedure uses the same laser technology to reshape the cornea after completely removing the corneal epithelium. This option is a great option for patients with thin corneas who are not good candidates for LASIK.
Visian ICL
Visian ICL™ (Implantable Collamer Lens) is a revolutionary soft-material lens made of biocompatible collagen polymer. The lens is surgically implanted into the cornea at our OKC eye surgery center. This procedure does not alter the shape of the cornea and the lens can be removed. Visian ICL is ideal for patients who are not eligible for LASIK due to thin corneas, dry eye, or high myopia.
RLE
RLE (refractive lens exchange) replaces the eye's natural lens with an artificial intraocular lens (IOL). The procedure is virtually the same as laser cataract surgery but is used to treat nearsightedness, farsightedness, or astigmatism. RLE is ideal for people over the age of 45 experiencing age-related vision problems like presbyopia.
The Downside to Glasses and Contacts
For most people, glasses and contact lenses are the first—and oftentimes only—measures taken to correct poor vision. But, as anyone who has worn corrective lenses for an extended period of time will tell you, they can be quite the hassle.
Lens Fog
Lens fog has always been a mild annoyance, but if you've worn glasses through the COVID pandemic, this struggle is real.
Dry Eyes
In many situations, contact lenses seem like a more convenient choice than glasses. Your eyes, however, might disagree. While most contact-wearers aren't constantly affected by dry eyes, daily activities and habits can cause this condition to range from irritating to unbearable.
Allergies and Sensitive Eyes
Some people just have really sensitive eyes. When a foreign object like a contact lens is introduced, the discomfort can be profound. On top of that, seasonal allergies can cause redness, itching, and swelling, making your eyes even more sensitive.
Misplaced Glasses & Lost Lenses
Keeping track of your glasses is one of the most difficult tasks for glasses-wearers. You sit them down to clean them, take a nap, or just give your face a break and the next thing you know, you're looking under the couch and in the back of the freezer to figure out where they ran off to. Contact lenses are even more evasive and they have a mind of their own, plopping out at the most inopportune times.
Extended Daily Wear
If you wear contacts, putting them in is probably part of your morning or getting-ready routine. Which means wearing them through long days and/or late nights can cause some serious eye discomfort.
Keeping the Holidays in Focus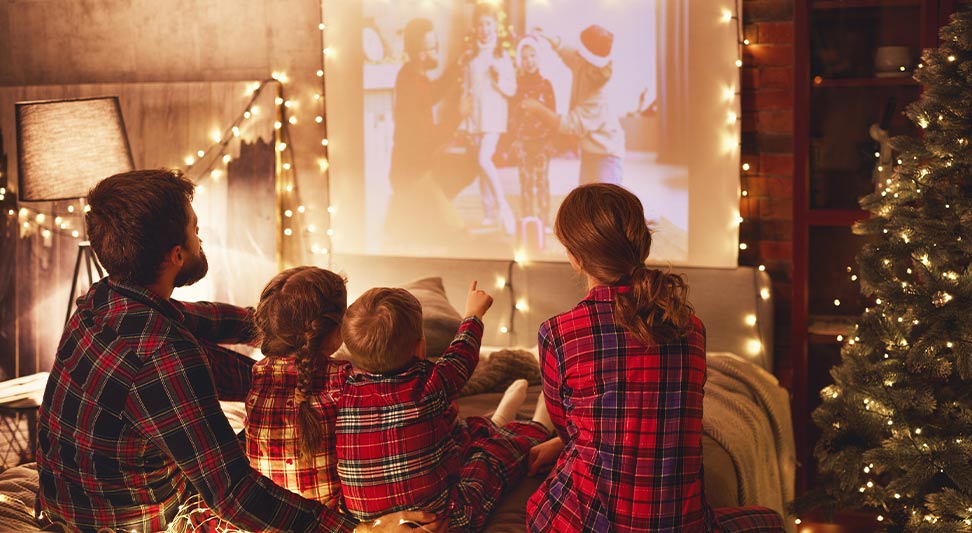 No matter how you look at it, the holiday season is a sensory experience. There are so many festive celebrations, decorations, outfits, foods, and programs to take in during this magical time of year. And while it's true that vision isn't everything, it is certainly a big ol' piece of the pie.
If you have poor vision or wear glasses or contacts and have been considering laser vision correction, here are 10 holiday traditions you'll enjoy even more with great vision.
Putting Up the Lights and Tree
Whether you put the tree and lights up as soon as the Thanksgiving table is cleared or wait until the last possible minute, a festive home full of sparkling lights, colorful decor, and a towering tree is a sight to behold. If it takes true vision to create a purposeful and impressive holiday scene, it takes good eyesight to fully appreciate it.
Looking at Christmas Light Displays
Name one thing better than piling into the car and driving around to look at neighborhood Christmas light displays while sipping on hot chocolate and listening to Christmas music. We'll go first… Piling into the car and driving around to look at neighborhood Christmas light displays with crisp, clear vision while sipping on hot chocolate and listening to Christmas music.
Traveling to Visit Family or Friends
Traveling is always more difficult when you add glasses and contacts to the mix. But can you imagine having to fight your way through a busy airport or trying to read road signs if you have uncorrected vision problems? It's so much easier to enjoy the view passing by your window when you can actually see it.
Watching Kids' Holiday Productions
There are few things that beat the chaotic cuteness of a bunch of kiddos singing on stage. But when it comes to tiny performers, it's the tiny details that make the most memorable moments. Without good vision, there's no guarantee you'll be able to see their full expressions and endearing performances even if you're lucky enough to snag a front-row seat.
Attending Holiday Parties
An endless sprint of holiday parties can either put you in the holiday spirit or make you wish it was the middle of January already. Regardless of how full you keep your social calendar this year, holiday gatherings are always better when bad vision isn't on the guest list. But when you drop in with good eyesight, you'll be able to fully appreciate the festive visuals and recognize (or avoid) fellow revelers from across a crowded room.
Family Photos Sessions
Family photos are a classic holiday tradition that provides a visual timeline of your family's growth and change over the years. Glasses always create a challenge for photographers because they reflect lights and flashes. And when you can't see the photographer clearly, it's difficult to seem natural in front of the camera. Plus, holiday photo locations and backdrops are always fun to see.
Visiting Santa
Taking your kids to see Santa is a time-honored holiday tradition. Watching them—and all the other ones ahead of you in line—light up or cry uncontrollably when they sit on Santa's lap is one of the highlights of the season. Your vision should not get in the way of this proud parenting moment.
Making Christmas Ornaments and Decorations
Gathering with friends and family to make special, handmade ornaments is one of the trendiest ways to spend time with people you care about and commemorate this holiday season. But have you ever tried being crafty when you can't see clearly? Let's just say scissors, hot glue, and fine-tipped paint brushes don't mix well with bad eyesight.
Watching a Holiday Movie Marathon
You might think a holiday movie marathon is all about the race itself, but the preparation is just as important. You and your fellow movie marathoners will need a constant supply of holiday-themed drinks, snacks, and ambiance. If you're in charge of any of those items, an eye for detail is vital. And then there's the continuous lineup of movies to think about. How far into it will you last with glasses, contacts, or bad vision? Somewhere between It's a Wonderful Life and Elf, probably.
Staying Up Late On Christmas Eve and Waking Up Early On Christmas Day
Long gone are the days when you tried staying up long enough to catch Santa dropping off your presents and enjoying your milk and cookies. These days, you're just trying to stay up long enough that you don't get caught in the act. And you know Christmas morning comes early. Being able to stay up late and wake up early without dealing with glasses, contact lenses, or bad vision is the real Christmas miracle.
Eat, Drink, and See Merry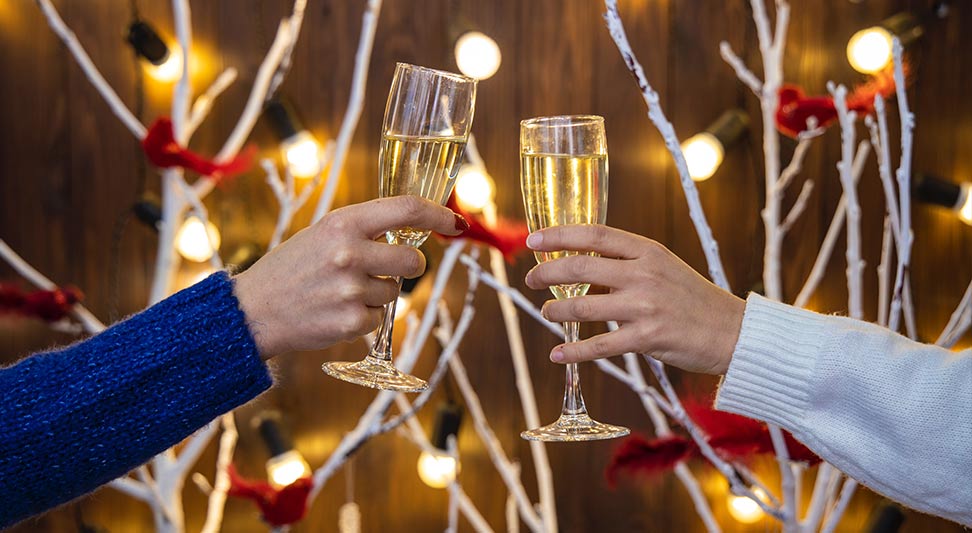 Christmastime gives us endless reasons and opportunities to come together in celebration. Whether you plan on enjoying the season's simplest pleasures or embracing their extravagance, your vision plays an important role in your holiday experience.
If you're ready to eat, drink, and see merry, let's turn your holiday season into a holiday SEEson with the gift of great vision!
Schedule your laser vision consultation and save $600 during Holidays of LASIK
From all of us at nJoy Vision, we wish you a joyful holiday season and many blessings in the new year!