Spring has officially arrived in OKC! The days are growing longer, the nights are getting warmer, and it seems as though our entire city is in bloom. Parks are full of families, stadiums have come alive with avid baseball fans, and all over the OKC Metro restaurant patios are serving up cocktails and appetizers as folks enjoy a night out with friends.
After so many months of cold winter, the sight of Spring is enough to bring a tear to your eyes.
But if you're unlucky enough to be one of the millions of people who deal with seasonal allergies, those tears are not tears of joy. The reality is, Springtime in OKC also means allergy season has descended upon us. And if you're still dealing with contacts or glasses, this season can be almost unbearable.
The Cruel Irony of Spring
Anyone who was raised in Oklahoma knows that Oklahoma is the land where "the wind comes sweeping down the plains!" And while the blooms of an Oklahoma spring may be beautiful, they also bring with them a whole host of allergens. Combine those allergens with the Oklahoma winds, and a dreamy springtime afternoon quickly turns into a sniffling, sneezing nightmare.
During allergy season, more allergens than normal are floating in the air, and the Oklahoma winds just LOVE picking up those allergens and transporting them directly into your eyes and nose. Allergens like mold, pollen, and dust can bring about typical reactions like sneezing, running noses, and chest congestion. But these tiny little allergens can wreak big-time havoc on your eyes, too.
For contact wearers, seasonal allergies often lead to drier eyes, dirtier lenses, and even more irritation!
Seasonal Eye Allergies are Bad Enough! Don't Let Contacts Add Insult to Injury!
At nJoy Vision, we understand the frustration that allergy season can bring. We know that the high winds and overly-aggressive allergens in the air are enough to drive a person insane.
We've said it before, and we'll say it again… Unless you're good at holding your breath and walking around with your eyes closed, you simply cannot avoid airborne allergens.
Schedule your free nJoy Vision LASIK consultation and get ready for Spring!
It's why we go out of our way to help you remove at least one stress from your life! By ditching your contact lenses, you're giving your eyes a little bit of a break during the height of allergy season.
You see, those tiny little contact lenses basically serve as Petri dishes for all kinds of allergens such as mold, pollen, smoke, pet dander, dust, perfumes, and even chemicals found in eye drops!
Ditch the Lenses and Get Out There to Enjoy an OKC Spring! 
So, if avoiding the uncomfortable battle with seasonal allergies isn't enough incentive for you to finally treat yourself to vision correction, maybe we can entice you with a few activities popping up around OKC this spring. We're under the impression that the great outdoors is far more enjoyable when you're not dealing with contacts or glasses.
Let's take a look at a few hot spots around the OKC Metro this spring! 
Scissortail Park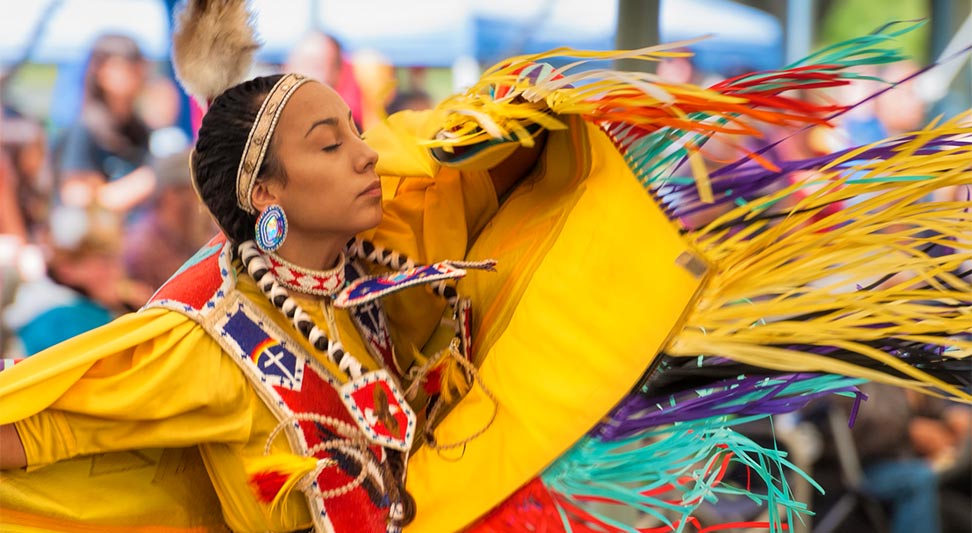 Scissortail Park is a sprawling, scenic public park situated in the heart of downtown between the Myriad Botanical Gardens and the Oklahoma River. The Park features a variety of engaging experiences for visitors, including ornamental gardens and woodlands, a 3.7-acre lake, children's playgrounds and water fountains, a seasonal roller rink, dog park, picnic grove, restaurant, and performance stage and great lawn.
There is something for everyone at Scissortail Park, but with all the amenities, sceneries, and events set for this spring, you can't beat the experience you get when you take it all in with clear eyes and crisp vision.
The Unite the People Pow Wow on May 28 & 29 is a weekend-long celebration of Native American culture free to the public. With an art market, Native American merchandise, and cultural dance competition, it is one of the most visually stunning events you can experience.
You can also catch some great concerts this spring during Scissortail's free concerts series. This spring's concerts include Josh Abbot Band, Amythyst Kiah, and LeAnn Rimes.
But music isn't a visual experience, you say? It is when the concert is set outdoors with the Downtown OKC skyline as a backdrop!
Myriad Botanical Gardens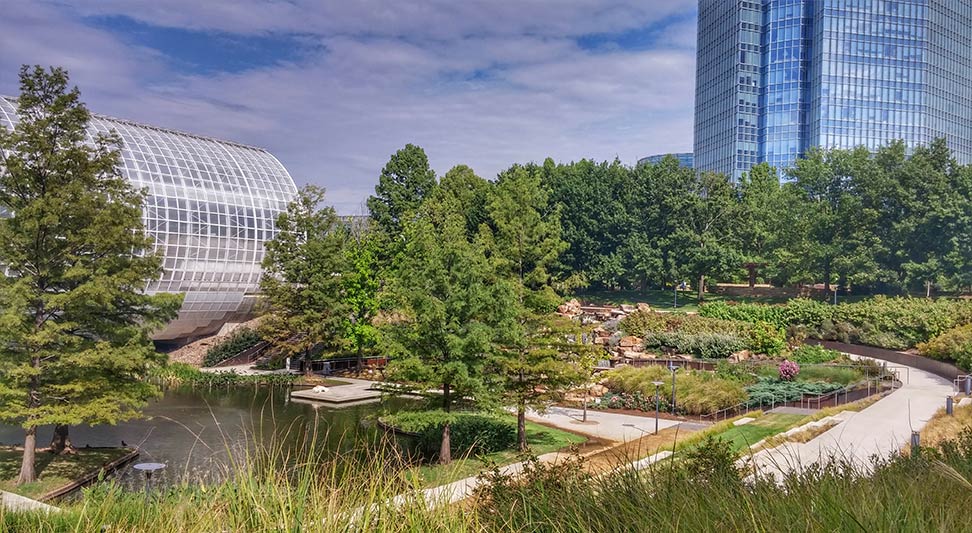 Just across the street from Scissortail Park is the sprawling green oasis known as Myriad Botanical Gardens. Myriad Botanical Gardens is one of Oklahoma City's most beautiful and vibrant green spaces. Offering visitors a 15-acre, natural escape in the heart of downtown, the Gardens are free and open to the public. The spacious grounds feature seasonal activities and events such as spring bulb displays, concerts and movies, classes, annual children's festivals, and more. 
And all throughout the months of April and May, the gardens are hosting FREE yoga classes in the park. Yoga is great for your body and mind, and is a great way to connect with nature. That is unless your glasses keep sliding off your face every time you move into your downward dog pose.
Schedule a free OKC LASIK consultation and gain the vision to master any yoga position
Wheeler District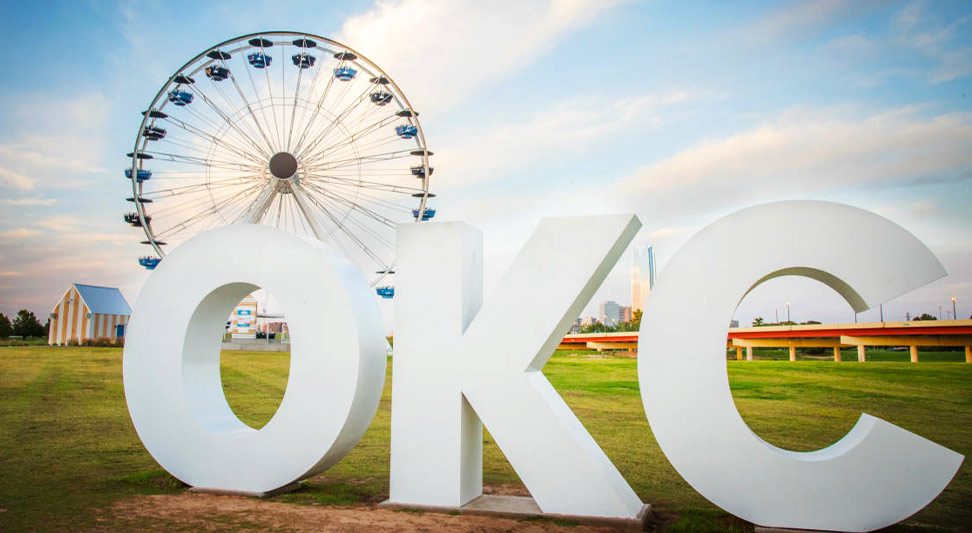 A quick drive down Western and over I-40 will bring you to one of OKC's newest recreational districts, the Wheeler District. Known for its landmark Ferris Wheel and large OKC letters, this park plays host to countless food trucks and outdoor events. Boasting spectacular views of the skyline, the district is a walkable, bikeable area designed for the whole family. 
Wheeler is home to the historic Santa Monica Pier Ferris Wheel. The Wheeler Ferris Wheel stands 100 feet above the south bank of the Oklahoma River. For a small fee, you and your family can take a ride to the top of the Ferris wheel to enjoy breathtaking views of the Oklahoma River and the OKC skyline.
Views atop the Wheeler Ferris Wheel are breathtaking! That is unless your contact lenses have dried out from all the wind and you can't see a thing!
Riversport OKC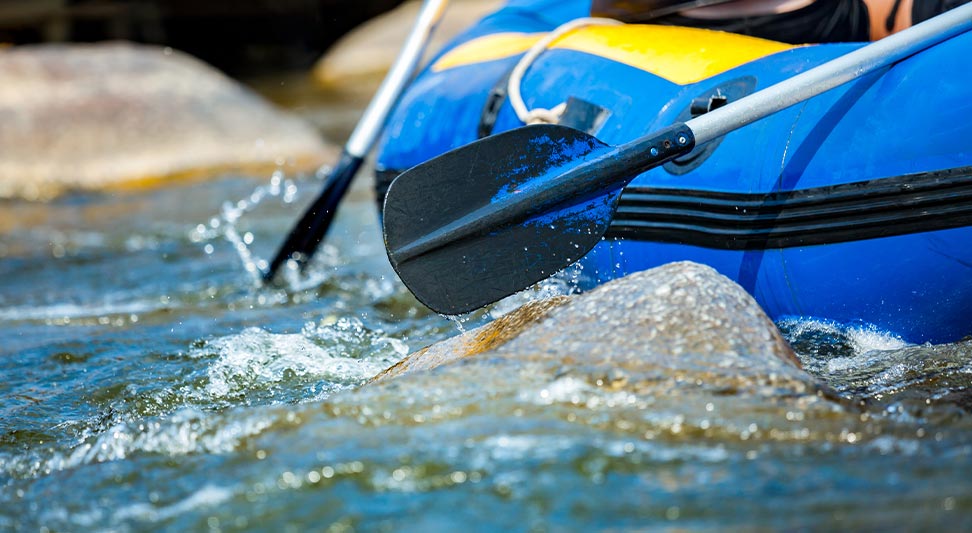 Riversport OKC Adventure Parks on the Oklahoma River offer exciting outdoor urban adventures for the whole family. Adventures and activities that are open daily in the summer and on weekends in spring and fall include:
Whitewater rafting
Love's tubing
Surfing
Adventure courses
Ziplines
High-speed slides
Extreme jumping
Climbing walls
Pump tracks
Sailing
Flatwater kayaking
Stand-up paddleboarding
Bike park with pump tracks and a mountain bike skills trail
Indoor alpine skiing (new in 2021)
A nature center
And more! 
You'll also find festivals and race events throughout the year, as well as summer camps for kids.
The RiverSport Parks' calendars are so full of daily events, we didn't have enough room to mention them all!
Needless to say, this area is a sportsman's dream! But be warned, they WILL NOT drain the river just to find the glasses that flew off your face when you were battling those Class 5 rapids! 
OKC Dodgers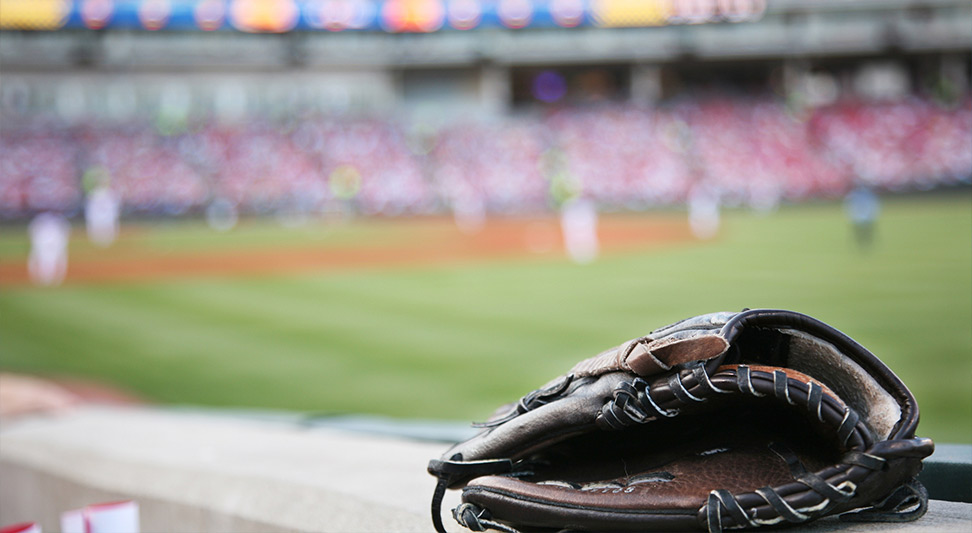 Looking for a slightly more laid-back spring event? Springtime in Bricktown means baseball is in full swing! The OKC Dodgers are the Triple-A affiliate of the Los Angeles Dodgers, which means that on a nightly basis, fans can take in major league talent at the fraction of the cost of a Big League game.
Between the ongoing promotions and the regularly scheduled Friday night fireworks, taking in an OKC Dodgers game seems like a springtime no-brainer! There's nothing quite like kicking back and taking in a baseball game with the family.
The crack of the bat, the smell of the hot dogs, and the fuzzy, out-of-focus players down on the field…  Don't let poor vision ruin a night at the ballpark!  
OKC Futsal Courts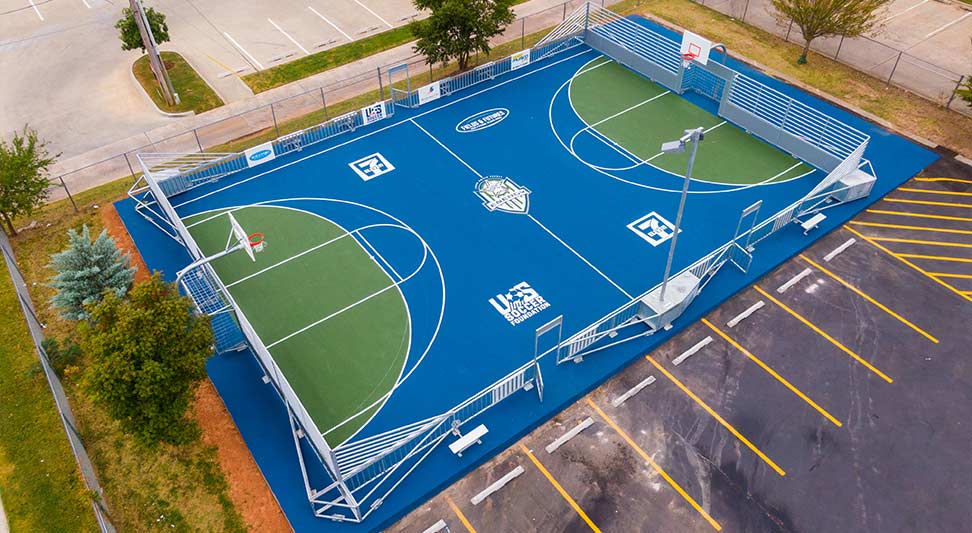 MetroFamily Magazine recently did an article on a revolutionary type of low-maintenance, mixed-use sports court called Futsal Courts, which are popping up all over the OKC Metro. These "mini-pitches" are a part of an initiative championed by the U.S. Soccer Foundation, Fields & Futures, Musco Lighting, and OKC Energy FC.
Futsal is a variant of soccer played on a smaller, fenced court, usually on a hard, lower maintenance surface. Gameplay is a fast-paced, freestyle soccer played by teams of five, instead of the traditional 11-on-11. And while many of these courts have been built at OKC Public School sites, you can also find many of them in parks across the Metro.
If you're going to try your luck with the modern game of futsal, just remember, sports goggles are so 90's! For your reputation's sake, look into LASIK before you hit the pitch!
Making The Most of Spring in OKC
Springtime may just be the best time to be in OKC. There's plenty to see and do. But with the Oklahoma spring comes allergy season, and that spells trouble for anyone still wearing contacts and glasses.
Don't let itchy watery eyes keep you indoors this year. Ditch your lenses and let the nJoy Vision team help you find the vision correction procedure that is right for you.
Schedule your free LASIK consultation today and enjoy an eye-opening Spring in OKC!