As we joyfully welcome the arrival of summer — and what looks like a particularly celebratory 4th of July — we are looking forward to sunny days with friends, lazy BBQs, and the occasional fireworks. This makes June the perfect time to remind everyone about the risks that fireworks pose to eye health so that we can all safely enjoy the fireworks that will come on Independence Day.
The Very Real Danger of Fireworks
Most of us know that any activity that involves igniting stores of gunpowder and metallic compounds has the potential to cause serious physical injury. Surprisingly though, as recently as 2019, there were still between 9,000 and 10,000 injuries caused by fireworks — 12 of them fatal and 15 percent being eye injuries.
Moreover, three-quarters of firework-related injuries that required emergency room treatment occurred between mid-June and mid-July. These and more statistics are available in the annual fireworks injury report by the U.S. Consumer Product Safety Commission.
Eye Injuries Caused By Fireworks
The most common fireworks-related eye injuries treated by eye doctors and emergency medical professionals include:
Detached retinas
Scratches on corneas
Chemical/thermal burns, cuts, and bruises on the cornea
Ruptured Eyeballs
Foreign objects embedded in eyes
It is important to remember, however, that people have been partially or fully blinded by fireworks.
How to Treat Eye Injuries Caused by Fireworks
Firework-related eye injuries should be dealt with immediately as a medical emergency. Call 911 and make sure the injured person:
Does not rub their eyes or otherwise touch them. This may cause more trauma and make the injury worse, and unsterilized hands can transfer germs and bacteria, causing further infection.
Does not rinse their eyes, even with water. Depending on the injury and chemicals involved, this can cause more damage than rubbing the eye.
Does not apply any pressure to their eyes. If they need to cover or protect the eye, gently tape a foam cup with one or two pieces of tape around the eye.
Does not try to remove anything that is stuck in their eyes. This requires precision, a steady hand, and expert medical knowledge about the anatomy of the eye.
Does not apply any ointments or drops to their eyes. Even if the ointment is sterile, it may make the area around the eye slippery and more difficult for a doctor to properly examine and treat.
Does not take any medication that thins the blood (such as aspirin or ibuprofen) unless directed to do so by a doctor. Over-the-counter medication will not do much for the pain, and thinning the blood will increase any bleeding that occurs.
The person may be in pain and may panic, but because a firework injury can involve chemical burns and blunt force trauma, trying to treat it without medical expertise can make it much worse.
Fireworks Safety
Fireworks aren't just a risk to the people setting them off. Bystanders make up 65% of firework-related injuries. It is always preferable to attend a public fireworks show put on by pyrotechnic professionals. Not only are they more impressive than consumer fireworks in most cases, but they are safer for viewers, as there will be areas cordoned off for the public at safe distances.
When attending a public fireworks show:
Stay in the designated viewing areas and do not cross the safety barriers.
Follow all posted safety instructions.
Watch the show from at least 500 feet away.
If you see unexploded fireworks, do not touch them. Move away from them and contact the fire or police department immediately.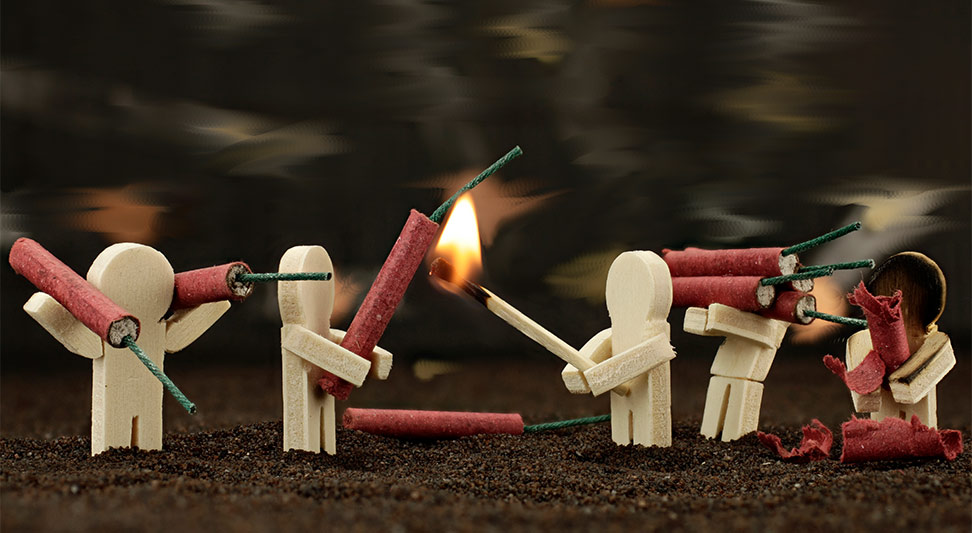 Consumer Fireworks Safety
While many Americans are content to attend and observe professionally run, public fireworks displays, there is a concern that because many places may still be following COVID restrictions, there will be more consumer fireworks being purchased and set off.
Amateur fireworks displays are much more unpredictable and dangerous than professional pyrotechnic shows — and may be illegal in some state and county laws. Mortar-type fireworks and bottle rockets are the most common causes of firework injuries. Their trajectories aren't easy to determine or control and can easily strike bystanders.
If you do take part in or attend a consumer fireworks display, please follow these safety tips and precautions:
Wear protective eyewear while handling, lighting, standing near, or observing fireworks.
All fireworks should be set off in a clear area outdoors far away from houses and other buildings, dry leaves, grass, and other flammable materials.
Make sure viewers are a safe distance away before lighting any fireworks.
Do not let young children play with the fireworks. Make sure they refrain from running around or engaging in any horseplay. Don't even let them play with sparklers. They may seem innocuous, but they burn at over 2,000 degrees Fahrenheit and were responsible for around 1,200 injuries in 2019.
Older children should only handle fireworks under close adult supervision.
When lighting a firework, make sure no part of your body is directly over the firework.
Do not point or throw a firework at anyone. Roman candle fights are among the most common causes of fireworks injuries.
Never light fireworks in a container, especially glass or metal.
If a firework is a "dud" or doesn't ignite, do not try to relight it. Keep a bucket of water handy to pour over "dud" fireworks and for emergencies. Soak "dud" fireworks and discard them properly.
Do not make or experiment with homemade fireworks.
Read instructions and know the storage directions. Make sure fireworks are stored in a cool, dry environment.
Keep unused fireworks far away from where fireworks are being lit.
Fun Alternatives to Consumer Fireworks
Fireworks are a wonder to behold and are a well-established tradition, but if there is no public firework show to attend near you this year, here are a few alternatives that could be as fun (or more), especially for children:
Glow sticks and glow-in-the-dark accessories. Easily found in toy and dollar stores, glow sticks and accessories come in a variety of colors and shapes. Put on some music in the backyard and have a dance party.
Televised firework shows. Gather the family around with snacks and find a live broadcast of a big fireworks show, or edit together a compilation of the best fireworks shows you find on the internet.
Toy Fireworks Light Show Launchers. Browse online or visit a toy store for extremely cool fireworks light "launchers". These are bazooka like toys that combine cool sound effects and light displays that emulate fireworks indoors. Issue a "fireworks light challenge" and let everyone take turns designing and "launching" their best firework shows.
This year, let's work together to create new, safe traditions that are safer but still pleasing to the eyes!