Christmas carols dominating the radio, cards being received left and right, Santa Claus at every mall and holiday store… All this can only mean one thing: the Holiday Season has officially arrived.
While this is the most wonderful time of the year, with it comes some dangers worth noting to ensure a seasonal gathering with family, not doctors.
When you think of A Christmas Story, the first things that most likely come to mind are:
The Leg Lamp or

"You'll shoot your eye out!"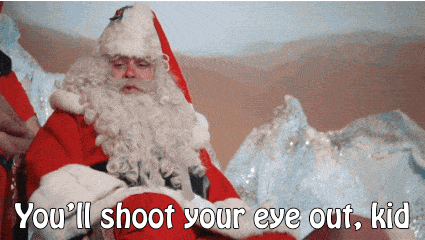 For those of you who haven't gotten to enjoy the classic Christmas movie, 9-year-old Ralphie dreams, wishes, and hopes for nothing more than a Red Ryder Range 200 Shot BB gun. Hence, "You'll shoot your eye out!"
Here at nJoy Vision, we'd like to prevent this from happening in your own life to you or someone you love. For this very reason, we're providing all you need to know about Safe Toys and Celebrations Awareness Month.
When buying toys for the little ones:
• No toys with sharp objects or edges.
• Avoid darts, pellet guns and other firearms as gifts, especially to children.
• Remember to avoid toys that can be choking hazards especially for children under the age of three.  Remember the rule: If it can fit through an empty toilet paper roll, then avoid it for young children.
• Avoid hard candy for young children.
• Remember to avoid toys with strings longer than 12 inches for children less than three years old as it can be a strangulation hazard.
• Avoid slingshots or other projectile type of types.
• Avoid toys with magnets for young children.
• Give children under 10 only toys with batteries and compartments that can only be opened by an adult (such as a screw sealed battery chamber) and don't let them play with batteries.  Plug-in toys should be only for older children.
• Buy durable toys that will not break or shatter into pieces or release toxic substances.
• Observe video game age-ratings.  They are there for a reason.
• Read all warning labels carefully on toys and decorations.
• Remember to supervise your children at all times
When decorating and celebrating:
• Remember to drive safely as parties begin and crowds increase.
• Open champagne bottles away from your face with a towel.
• Hang glass ornaments out of reach of children, and use damage-free lights.
From all of us at nJoy Vision, have a very happy (and safe!) Holiday Season.