Whoever said 50 is the new 30 definitely did not see 2020 coming. These days, the opposite feels more accurate! Fortunately, September is Healthy Aging® Month, an entire month devoted to turning back the clock… or at least making it slow down as much as possible.
Healthy Aging® Month started more than 25 Septembers ago as an annual health observance designed to draw national attention to the positive aspects of growing older and to encourage adults 45-plus to focus on their physical, mental, social, and financial well-being.
Surely, we're not the only ones who find it amusing that the newest additions to the 45-plus club were a bunch of 20-year-old whippersnappers when Healthy Aging Month first became a thing.
In the words of the great Michael Scott…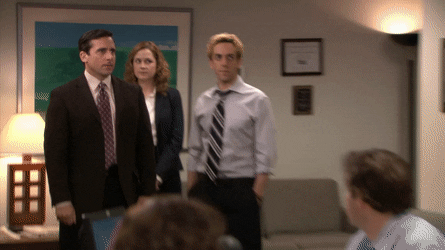 While it is absolutely imperative to take control of our overall health as we grow older, we want to take a closer look at our eyes and how we can take care of our visual system as it changes with age.
The Seasons of Vision
Much like the rest of our body, our eyes stop growing when we reach adulthood. Between the ages of 18 and 45, our vision is generally stable so this is the perfect time to treat common vision problems like farsightedness (hyperopia), nearsightedness (myopia), and astigmatism.
At nJoy Vision, we commonly perform LASIK, PRK, and Visian ICL™ on adults 45 and younger who would like to experience life without the hassle of glasses or contacts.
LASIK and PRK are precise, minimally invasive procedures that use advanced laser technology to reshape the cornea, which helps the eye to focus properly, thereby reducing or eliminating the need for eyeglasses and contact lenses.
Visian ICL™ is an advanced vision correction option that permanently corrects mild to severe myopia and astigmatism with a microscopic implantable collamer lens. Unlike LASIK and PRK, the Visian ICL™ procedure does not permanently alter the shape of your cornea.
Unfortunately, we can't stay young forever. And neither can our eyes. In fact, most people will experience some degree of visual acuity loss in their 40's. During this stage of adulthood, the lens inside the eye begins losing flexibility, making it difficult to focus on things up-close. This age-related eye condition is called presbyopia.
Presbyopia causes many people who have never worn glasses or contacts to find they need reading glasses, and people who already wear glasses to start needing bifocals.
At nJoy Vision in OKC, we can "lens" a hand to those in this life stage. Using advanced laser technology, our lens implant procedures are able to restore near vision while preserving distance vision.
Refractive lens exchange, or RLE, is another cutting-edge laser procedure for those with presbyopia in OKC.
Using the high-precision image-guided femtosecond laser, our eye surgeons create a perfectly sized opening to access the eye's natural lens and replace it with a specialized intraocular lens (IOL). The results reduce or eliminate the need for glasses or contact lenses.
The next season in life – the senior years – is one that many people look forward to. After years and years of work, they're ready to retire, travel, and spend quality time with the grandkids.
Unfortunately, it's at this age that many people begin to develop cataracts. According to the National Eye Institute, more than half of all Americans age 80 or older either have cataracts or have had surgery to get rid of cataracts.
Just like RLE, laser cataract surgery involves making tiny incisions in the cornea, removing the cloudy lens from the eye, and replacing it with a specialized intraocular lens (IOL).
Using the same femtosecond laser technology that revolutionized LASIK, laser cataract surgery at nJoy Vision brings unparalleled levels of accuracy, better outcomes, and faster recovery times.
nJoy Vision is also the first vision correction center in Oklahoma to use the CATALYS® Precision Laser System in cataract surgery. This cutting edge device features a state-of-the-art laser and advanced 3D imaging technology that builds a map of each eye and tailors the treatment to that map.
A Window to Your Health
Did you know your eyes are connected to many other systems in your body and serve as a window into your overall health?
When you schedule a comprehensive eye exam during Healthy Aging Month, in addition to checking your eyesight, your optometrist will look at the blood vessels, veins, and nerves inside your eye. Along with age-impacted eye diseases like age-related macular degeneration, cataracts, diabetic retinopathy, glaucoma, and dry eye, these tiny components of the eye can reveal several common, and sometimes life-threatening, health conditions.
Hypertension
By examining the blood vessels in the retina at the back of the eye, optometrists are often the first medical professionals to detect high blood pressure. By spotting vascular abnormalities in the eyes, they can help identify risks for heart attack or stroke before they occur.
Diabetes
Damage to the small vessel in the retina can be a sign of diabetes. Early detection of diabetes through a comprehensive eye exam can reduce the risk of vision loss, heart disease, and kidney failure.
Cancer
During a comprehensive eye exam, your optometrist might recognize abnormalities that indicate different types of cancers. These include ocular melanoma, basal cell carcinomas, and brain tumors.
Other common age-related health problems that may be detected during an eye exam include tumors, aneurysms, autoimmune disorders, thyroid disease, sickle cell disease, liver disease, multiple sclerosis, Parkinson's disease, and other neurological or brain disorders.
Whether you're 30 going on 50, 50 going on 30, or a 50-something holding strong at 50-something, the reality is none of us are getting any younger.
Healthy Aging Month is the perfect time to take a good look at your overall health, and that might start with something as simple as an appointment with an optometrist.
If you need help finding a doctor of optometry that will perform a comprehensive examination of your eyes and eye health, check out our network of preferred physicians for a list of qualified and experienced optometrists in your area.