I was in 8th grade the first time I noticed there was something wrong with my vision. Sitting in the back of Coach Coltharp's Pre-Algebra class, solving for X became infinitely more difficult due to the fact that I couldn't actually read the equation he had written on the whiteboard.
This was a completely unexpected situation and I've often wondered if the change in my visual acuity happened overnight or if the decline was so gradual that I never noticed it until that moment.
But, as someone who played multiple sports and hunted year-round, I couldn't think of a single instance where my vision had been less than perfect. I'd never dropped a pass or lost a fly ball or missed a shot. At least not because I couldn't see clearly.
It was at that moment, thinking back through my sports career, that I decided I would never step onto the field looking like Chris Sabo with a pair of Rec Specs wrapped around my head.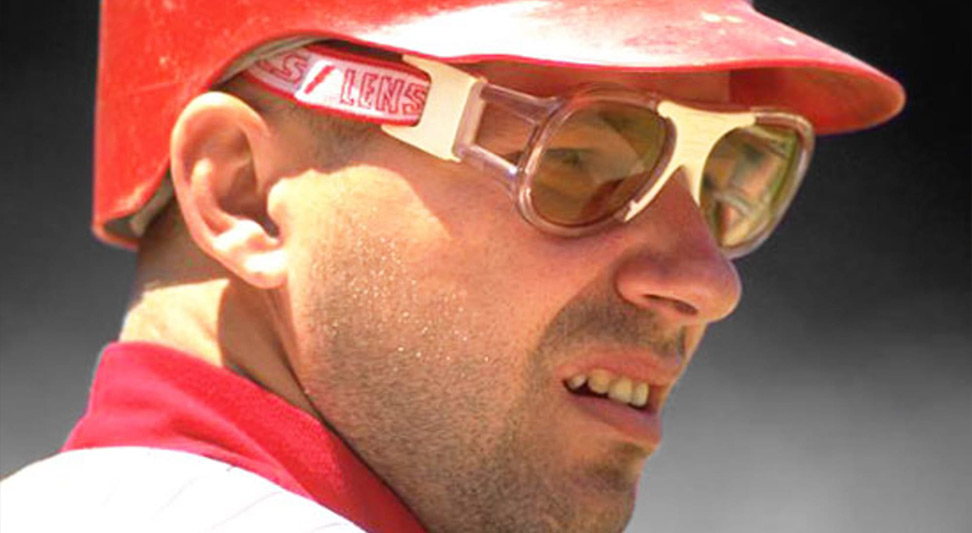 So instead of telling my parents I probably needed glasses, I did what any self-conscious teenager would do – I took a seat closer to the board and kept my mouth shut.
That baseball season, however, my performance in the outfield was noticeably impacted by my vision. I was left with no choice but to admit I needed prescription-strength help. But as embarrassing as dropping pop-flies was, I stubbornly refused to further humiliate myself by wearing recreation spectacles like these guys.
Instead, I opted for my regular prescription glasses with a totally-not-embarrassing dinosaur headband to hold them in place as I ran and jumped and dived for crystal clear line drives.
Over the next 20 or so years, glasses and contacts were a part of my day-to-day life. After college, I often thought about getting LASIK. Years of bad contact-wearing habits had left my eyes super sensitive and I dreamed about flushing those tiny blue domes down the toilet once and for all.
Unfortunately, I assumed the procedure would be too expensive and never really looked into it. Instead, I threw money at expensive frames, eye insurance premiums, and boxes upon boxes of contact lenses.
And then at the ripe old age of almost-38, I finally decided it was time to put all that nonsense behind me.
As the father of a 5-year-old and another one on the way, I didn't want glasses or contacts to get in the way of any more life experiences. Or naps. Adulting is tiring and I couldn't remember the last time I took a nap because it always required taking out my contact lenses first.
I scheduled my free LASIK evaluation at nJoy Vision for September 14, 2020. After the nJoy staff courteously ushered me through a litany of eye exams that included air puffs, eyelash tickles, and pupil dilation, Dr. Holsted gave me the news I was waiting to hear – my eyeballs were great candidates for laser-assisted in situ keratomileusis, aka LASIK.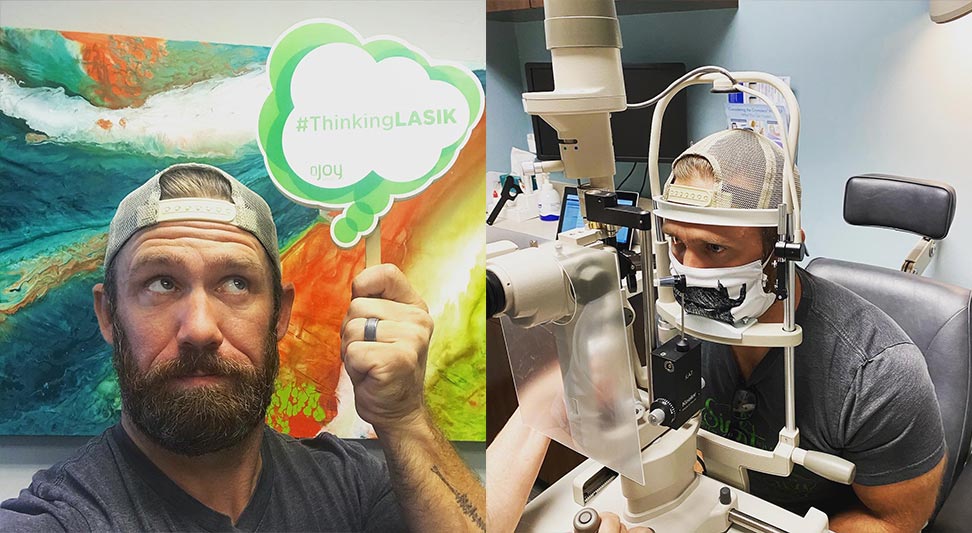 One thing that struck me early on and then again during and immediately after my procedure was how surprisingly simple and smooth the entire process was. I guess I was expecting a life-changing procedure to include a bunch of hoops and hangups along the way. Instead, I was pleasantly surprised at how hoopless and hangup-free my nJoy Vision LASIK experience was.
Case in point, I picked a procedure date for a few weeks after my evaluation. I repeat, I picked a procedure date. nJoy Vision didn't tell me when it was going to be, they let me choose!
During the time leading up to my procedure, nJoy emailed a couple of simple forms and info sheets then sent me a text message reminder or two. That's it. There wasn't a single phone call with scheduling or billing or insurance. They didn't move my procedure date or change my procedure time. They asked me when I wanted to do it, and then I just showed up on that day ready to go.
And as you might expect, the procedure day was as trouble-free as everything else.
I checked in, they gave me a quick makeover complete with a hairnet, numbing eye drops, and some iodine eyeshadow, and then I patiently waited my turn in a quiet pre-op waiting room.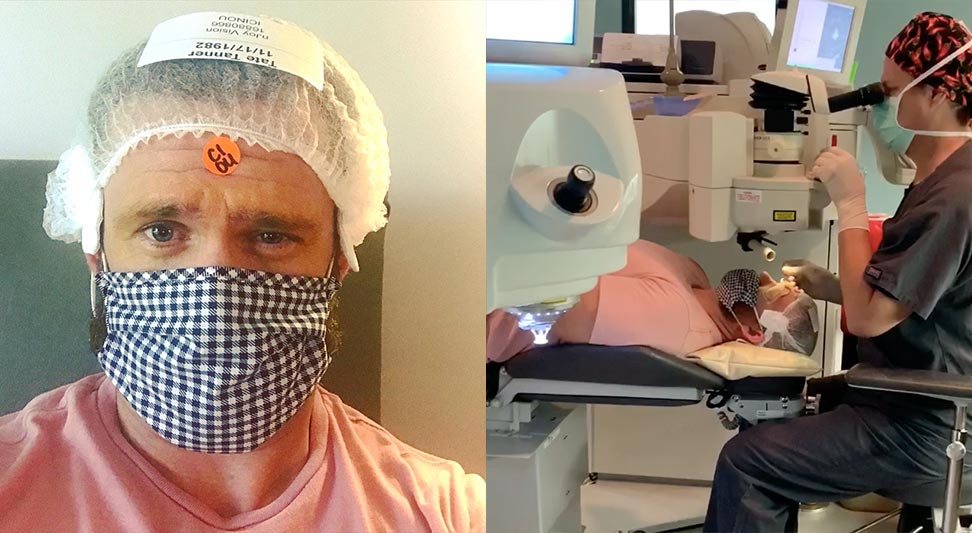 The procedure itself, a bilateral simultaneous bladeless LASIK treatment using the Intralase femtosecond laser to create a thin flap in the top layer of my cornea and the VISX Star S4 IR excimer laser to precisely reshape my cornea, took all of 5 minutes.
Following a quick examination to inspect their handiwork and a brief observation period, I was on my way home to rest for a few hours.
That evening, my vision was a little cloudy and my eyes were a little light-sensitive (although I still managed to watch Thursday Night Football). By the next morning, my vision had cleared up enough for me to drive myself to my one-day follow-up appointment.
Less than 24 hours after LASIK at nJoy Vision, I was driving on the highway without glasses or contacts for the first time in my life.
Over the next couple of weeks, my vision continued to sharpen and any minor discomfort I initially felt completely faded away. To say my decision to have LASIK at nJoy Vision in Oklahoma City was long overdue is an understatement.
When my two-week follow-up revealed that I was seeing 20/20 and still progressing, I knew the time had come. I gathered up all my old glasses, contacts lenses, and solution bottles and threw them in the trash!
And at almost 40 years old, I finally took a nap.
Schedule your consultation at nJoy Vision and start your LASIK journey today!