Once upon a time, the only time you would catch sight of an ordinary Jane wearing a face mask was during a world news report from a foreign country dealing with an Ebola or avian flu outbreaks.
But when the COVID-19 pandemic hit smack-dab in the middle of our cities and neighborhoods, mask-wearing as a precautionary measure (and fashion statement) became as ubiquitous as sweatpants in a Zoom meeting.
While we laud masks for slowing the spread of COVID-19 and saving lives, that doesn't mean they don't create their fair share of annoyances and challenges.
As anyone with glasses can attest, glasses fog has become the bane of their existence. In fact, many eye care professionals are anticipating this benign affliction to be one of the main reasons people decide to get LASIK in 2021.
And here in Oklahoma City, we can attest to the accuracy of that forecast! Many of our recent patients have told us that glasses fog is the reason they finally decided to get LASIK.
So if you're trying to read this on your phone behind a pair of steamed-over lenses, you should definitely stop right where you are and schedule a free LASIK consultation at nJoy Vision.
Awesome! Welcome back! Now, read on to see all the ways mask-wearing affects our daily lives and even our love lives.
Mask-Making is a Cottage Industry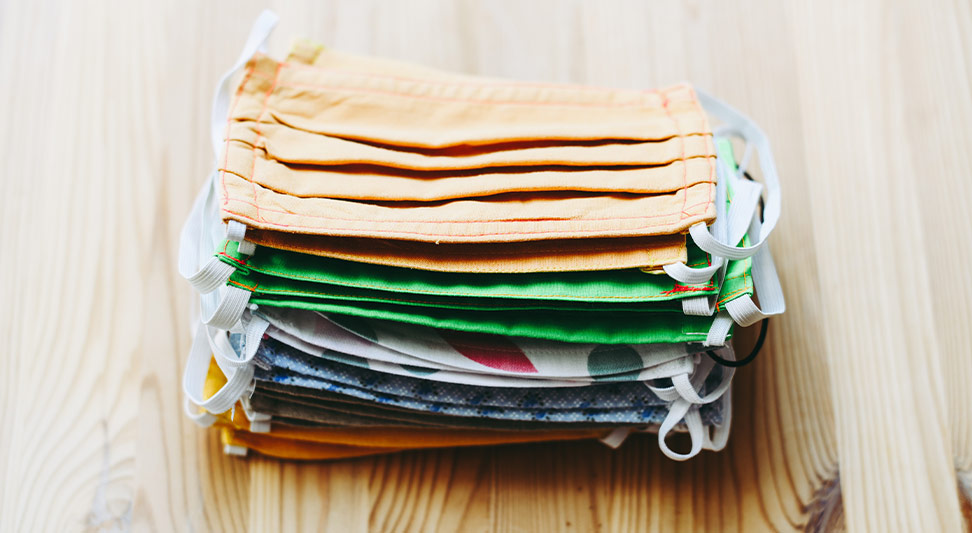 When the CDC made its mask-wearing recommendation, the high demand and short supply of reusable masks inspired many entrepreneurs and crafters to fire up their sewing machines and manufacture their own fashionable face coverings.
Many of these mask mavens started out by simply making masks for themselves or giving them away to friends or family in need. However, it didn't take long for opportunistic entrepreneurs to realize mask-making was a quick way to bring in extra income — especially as so many jobs and businesses were negatively affected due to the pandemic.
Masks as Fashion Statements & Wardrobe Accessories
When 2020 first arrived, we never dreamed of uttering the phrase "Does this mask match my outfit?" But a year later, it's as common as "Which shoes look better?"
Now that putting on a mask is a part of getting dressed, it's no surprise they've become one of the most popular and essential fashion accessories of all time.
Today, a blue surgical mask sighting is a rare occurrence. Instead, the mask boom has given us an array of options from recycled and bedazzled t-shirts to moisture-wicking performance fabrics that help slow the spread and fit our everyday needs.
Communication Challenges While Wearing Masks
Even though social distancing and mask-wearing protocols have helped keep people safe and healthy during the pandemic, they have created some serious challenges when it comes to dating and communicating.
As we all know, facial expressions play a crucial role in interpersonal communication. Many of the nuances of conversation are lost when everyone involved has a piece of cloth covering more than half their face.
No longer can we convey or interpret sarcasm, empathy, flirtation, satisfaction, or disdain with a simple mouth gesture. It's nearly impossible to be single and ready to mingle when you can't even mingle effectively. Social distancing aside, this communication barrier is really cramping people's love lives.
Hate glasses fog? You'll love LASIK and this sweetheart of a deal—Save $400 on LASIK at nJoy Vision.
Mask-wearing creates an even bigger hurdle for people with speech disorders and hearing impairments. Not only do masks muffle our voices, but they also make it impossible to read lips and decipher articulation nuances.
Glasses Fog Due to Mask Wearing
Adjusting to wearing a face mask has been hard enough for most of us, but with the added challenges of glasses fog, it sometimes feels like it would be easier to just deal with poor vision.
Seriously, raise your hand if you've just left your glasses in the car because you'd prefer to navigate the grocery store with bad eyesight than foggy glasses.
According to a Market Scope survey, more than 40% of eye care professionals believe glasses fog will lead more people to get LASIK in 2021.
The effects of glasses fog can range from slightly annoying to debilitating for jobs and activities such as:
Doctors & Surgeons – Foggy glasses can make even the most routine procedures and diagnoses difficult to perform.
Teachers – It's hard enough to keep your eyes on a room full of rambunctious kiddos. Now imagine how difficult it is to stay alert and attentive with a fog shield between you and your class.
Parents – Keeping a watchful eye on younger children is even more challenging when you can't see them clearly, especially when entering or leaving a building (a transition where glasses fog often occurs).
Kids & Students – Focusing on chalkboards and classwork is even less fun with glasses fog. In addition to the challenges of distance learning and reduced class sizes, glasses fog puts another hurdle in front of kids and students that could affect grades and retention.
Gym-goers – Sweat, increased body heat, and humidity all lead to glasses fog. Exercising while wearing glasses is already no walk in the park, but doing so with foggy glasses is, at best, an added annoyance and, at worst, could lead to injury.
Personal Shoppers – Whether you're using a service to handle your in-store shopping, or you are the personal shopper, timeliness and accuracy are essential. And there's nothing worse than receiving or delivering a sack full of the wrong items.
Retail Workers – Searching stock rooms, finding items on the top shelf, and counting back the correct change are every glasses-wearing retail worker's worst nightmare right now.
The Source of the Fog
When the warm air from your breath behind your masks hits the cooler air around the lenses of your glasses, water vapor condenses, causing a fogged-up pair of spectacles.
It is often a result of poorly fitted face masks that don't offer a tight enough fit when tucked under your eyeglasses. So, basically, every face mask ever.
Tips & Tricks for Combatting Glasses Fog
If you're looking for glasses fog hacks, you've come to the wrong place. But only because they often don't work well or are pretty unrealistic to do regularly.
For instance, do you really want to shove a tissue inside your face mask, hoping that it absorbs extra moisture? Rubbing your lenses with shaving cream sounds super fun, too. Not. And taping the top of your mask to your face might keep your warm breath from rising right up into your glasses, but we'd rather not have to carry a roll of scotch tape in our pockets at all times.
Face Shield Instead of Mask
Face shields do have the benefit of covering your nose, mouth, and eyes. But the CDC doesn't recommend them as a suitable substitute because there's not enough evidence of their effectiveness in stopping the spread of coronavirus through droplet transmission. Plus, face shields can fog as well.
Wearing Contacts
Contacts are already a common alternative to eyeglasses. But if you have vision problems and aren't already wearing contacts, there's a strong possibility that you can't wear them or don't like wearing them.
Be aware that if you often get dry eyes from wearing contacts, wearing a face mask is also known to cause dry eyes.
LASIK
This, of course, is our favorite way to combat glasses fog. Because you can't have glasses fog if you don't have to wear glasses, right?!
The reality is, nobody likes wearing face masks all the time, but they won't be going away anytime soon. And even after COVID-19 is under control, don't be surprised if mask-wearing becomes a staple during cold and flu season.
Are You Ready to Love LASIK?
It seems like glasses fog is here to stay, unfortunately. But don't let that get you down, because now is the perfect time to break up with your glasses and contacts and fall in love with clear vision. It is February, after all, and we've got a sweetheart of a deal you can't resist!
Schedule your free nJoy Vision consultation today so we can stare deep into your corneas and tell you the three little words you've always wanted to hear…
You're a candidate!